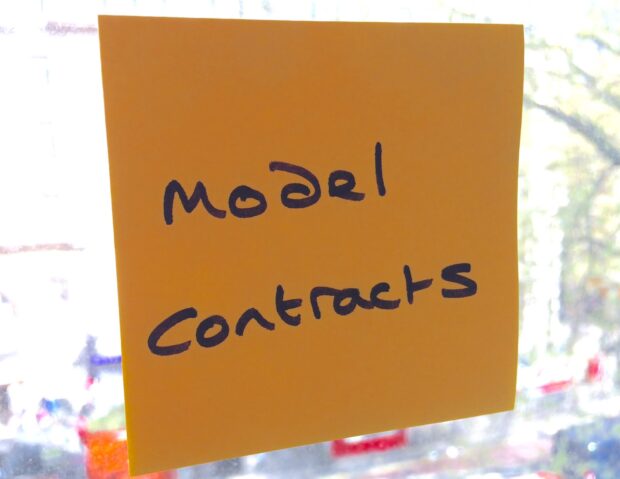 Back in July 2016, we published a blog post setting out our vision for government contracts in the digital age.
We said that simplifying contracts and hosting them online would encourage a more diverse range of suppliers to apply to offer their services to government. It would also help the Crown Commercial Service (CCS) to provide public sector buyers with the best possible commercial deals for goods and services.
We want contracts that meet the needs of buyers and suppliers, as well as government's needs. We'd like to share the findings from the discovery phase of our research. In many places, the things we discovered are broader than the initial stated focus on terms and conditions, but they do provide useful context.
The Government Transformation Strategy 2017 to 2020 states that we will renew our focus on transforming the way that the Civil Service and government works. One area of focus is leading a step change in procurement to ensure that user-centred, design-led, data-driven and open approaches are commonplace in contracting by 2020.
This project is an example of how the Government Digital Service (GDS) and CCS are working together to support this change. We're combining our respective areas of expertise to meet the raised expectations buyers and suppliers, who are the primary users of government contracts.
Discovery
We contacted the 165 people who had signed up as 'good contract champions'. This has now risen to 190 and is still open for people interested in making a difference to government contracts. Of the 165 people, 53 were available to speak to us within our timeframe.
The people that we spoke to included buyers, suppliers and legal experts from central and local government, large and small companies, and individual digital specialists from all over the UK.
We wanted to find out what users need from a government contract and the challenges of the current contracting process. We wanted to investigate how model contracts could help make working with government more accessible for a broader range of suppliers. It was also important to determine how model contracts could help buyers get the best value as well as how they could support innovation.
Findings
All user research participants wanted contracts to be fit for purpose, legally enforceable, clear and precise. In terms of their specific content needs, there was agreement that the following should be included:
liability, indemnity and insurance
intellectual property
service level agreements
contact points and escalation
exit responsibilities
When it came to looking at the current contract process, a number of areas for consideration emerged.
Collaboration
It was important to buyers and suppliers that there's consistent ownership through the contract lifecycle. This will ensure that knowledge is retained over time and that the contract maintains the same protections and maximum value is realised. With many different government frameworks, to both buyers and suppliers, consistency is vital.
Clarity
Often a single document has to serve multiple audiences, the content has to be clear and as relevant as it can be to the reader. The structure and design of the contract has to be of a high standard and the language needs to be simple.
Document management
When contracts are being agreed, documents are often emailed back and forth. There is a risk of poor version control and peer review issues. Buyers and suppliers need to be able to find the latest version of a contract. Suppliers want to have complete confidence that government knows what it has bought and can understand and manage its contracts.
The procurement and contracting process
This is time consuming for buyers and suppliers. For buyers, preparing their requirements, answering suppliers' questions, evaluating suppliers' bids and preparing the contract to award, takes time. For suppliers, preparing their bid and asking clarification questions, takes time.
Suppliers said that they want to feel that buyers fully understand their bid.
Buyer knowledge
Suppliers wanted to be confident in the knowledge of the buyer when it came to the procurement process. Time was being spent supporting the buyer through procurement.
Value for money
When it came to value for money, thinking fell into 2 categories: procurement and contract value for money. In terms of procurement, buyers wanted to feel as though the amount of time spent completing contracts was proportional to the size of the procurement.
While there are merits to the breadth of frameworks, it is important that detail is thoughtfully included and the content is relevant so there are no unnecessary barriers to use.
In addition, it should be a straightforward task to find and use the right route to market.
Terms and conditions
It is important that we are aware that using the same terms and conditions across a broad category could prove to be problematic. It could lead to high-level, generic definitions: for example, 'cloud'.
A uniform approach to risk and service level agreements might not be appropriate for the size or nature of the procurement, and may not match the supply market.
Some suppliers also felt that the way that certain clauses are written make it more difficult to comply with them.
Next step… Alpha
As a first step, we want to test some new ideas for 'model contracts' for the most commonly used goods and services, reimagined for the 21st century.
Some areas were commonly highlighted in the issues that came up through the contract lifecycle. The alpha scope will define which, if any, are taken forward. We will be blogging about this shortly.